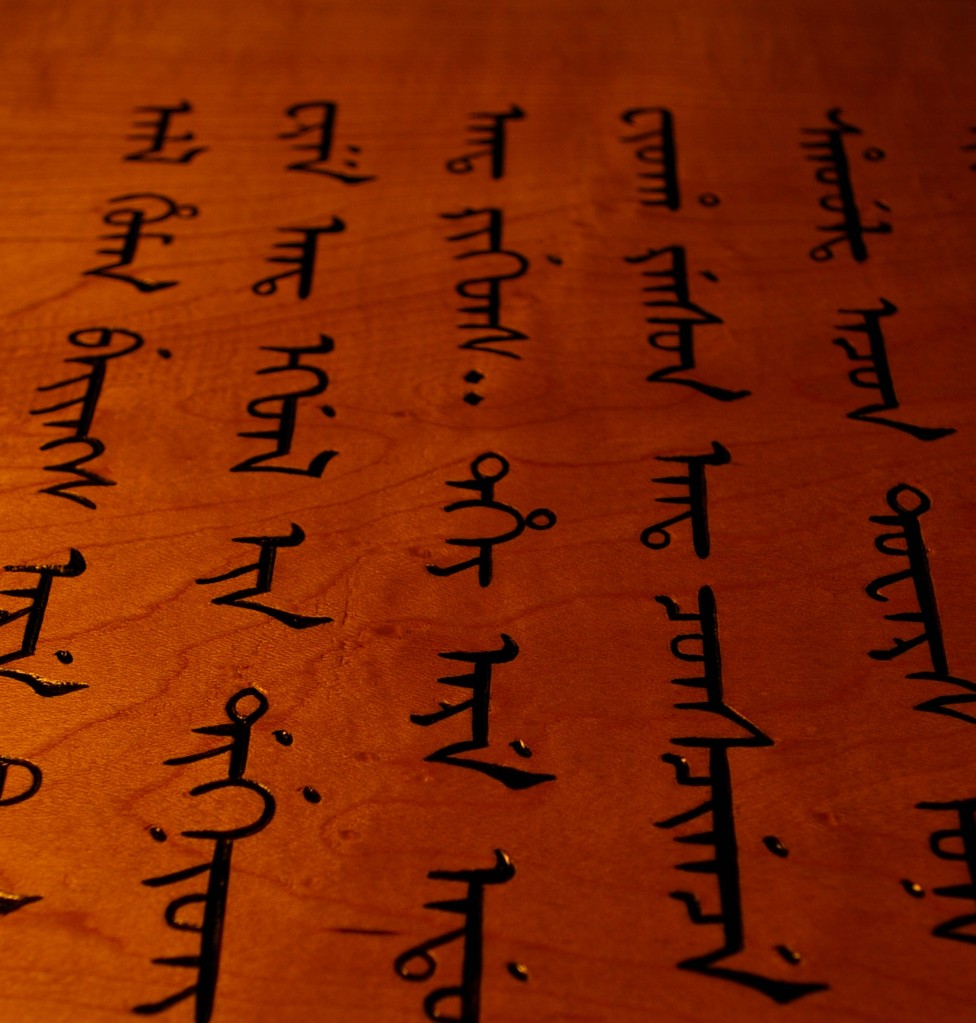 THE ENDANGERED ALPHABETS PROJECT
We've all heard about endangered species. But what about endangered languages? Tim Brookes researches languages on the brink of being completely forgotten, and he's here to break 'em down and store 'em up with his Endangered Alphabets project. Brookes carves and paints near-extinct writing systems from Indonesia, Nigeria, and beyond into wood, and he's planning a traveling exhibition to preserve these scripts and the fascinating cultures they embody.
The Endangered Alphabets Project needs invites for a Vermont professor traveling the world to attempt to save endangered languages... Please help.
Contact timbrookes@burlingtontelecom.net
World News
Rahul Choudaha | 02 October 2011 | Issue: 191

International student mobility in the first decade of the 21st century has been transformed by two major external events, 9/11 and the recession of 2008. Today the rationale for international student recruitment has shifted from attracting talent to make the student body more diverse, to seeking an additional source of revenue.

Continue reading story here: http://www.universityworldnews.com/article.php?story=20110930190559493
In November, the Committee on Yale College Education will present a partial review of recent changes to the college's distributional requirements. "This is a way in which Yale can contribute to the progressive social evolution in India, students can learn what goes on in developing countries and contribute to it."

Continue reading story here: http://www.yaledailynews.com/news/2011/sep/28/yale-india-increase-collaboration/
09 October 2011
Issue: 192
Knowledge is power - economic power - and there's a scramble for that power taking place around the globe. In the United States, Europe and in rising powers such as China, there is a growth-hungry drive to invest in hi-tech research and innovation, writes Sean Coughlan for the BBC.
Not to invest would now be "unthinkable", says Maire Geoghegan-Quinn, the European commissioner responsible for research, innovation and science, who is trying to spur the European Union to keep pace in turning ideas into industries. She has announced £6 billion (US$9.2 billion) funding to kick-start projects next year, with the aim of supporting 16,000 universities, research teams and businesses. A million new research jobs will be needed to match global rivals in areas such as health, energy and the digital economy.

"In China, you see children going into school at 6.30am and being there until 8pm or 9 pm, concentrating on science, technology and maths. And you have to ask yourself, would European children do that? That's the competition that's out there. We have to rise to that - and member states have to realise that the knowledge economy is the economy that is going to create the jobs in the future, it's the area they have to invest in," she said.
Full report on the BBC site
09 October 2011
Issue: 192
For more than a decade educators have been expecting the internet to transform that bastion of tradition and authority, the university, writes Bill Keller for The New York Times. Digital utopians have envisioned a world of virtual campuses and 'distributed' learning. They imagine a business model in which online courses are consumer-rated like products on Amazon, tuition is set by auction services like eBay, and students are judged not by grades but by skills they have mastered, like levels of a videogame.
It's true that online education has proliferated, from community colleges to the free OpenCourseWare lecture videos offered by MIT. But the internet has so far scarcely disturbed the traditional practice or the economics at the high end, the great schools that are one of the few remaining advantages America has in a competitive world.

Two recent events at Stanford University suggest that the day is growing nearer when quality higher education confronts the technological disruptions that have already upended the music and book industries, humbled enterprises from Kodak to the Postal Service (not to mention the newspaper business), and helped destabilise despots across the Middle East.
Full report on The New York Times site
Noemi Bouet*
09 October 2011
Issue: 192
In Syria, a nuclear physicist who was shot in the head has become the latest victim of a series of murders targeting scientists in the city of Homs. Iranian Omid Kokabee, the Texas University doctoral student detained in Tehran's Evin prison on espionage charges, went on trial last week. And in China, the authorities have cancelled the classes of a prominent Uyghur professor at the Beijing Minorities University, and 20 Uyghur professors have been dismissed from a teaching college in the northwestern region of Xianjiang for failing to be fluent in Mandarin.

For the rest of the article, click here
Daria Luchinskaya*
09 October 2011
Issue: 192
On 24 August, at a meeting of the Russian Rectors' Union, Prime Minister Vladimir Putin called for the urgent modernisation of Russia's higher education system. In particular, Putin proposed to allocate RUB70 billion (US$2.4 billion) to support higher education, especially federal and national research universities, to promote their role in economic and regional growth, and launched a RUB12 billion project to attract top international specialists to universities. What are the implications for Russian higher education?
The calls for the modernisation of higher education are not especially new. During the 1980s, 1990s and 2000s higher education was lauded by the government as a source of innovation, economic growth and regional development.

But its funding was heavily dependent on the economic situation. During the severe recession of the 1990s, higher education spending as a proportion of gross domestic product (GDP) fell from 1.2% to 0.4% between 1992 and 1998, alongside market-orientated reforms and mass expansion in student enrolment.
For the rest of the article, click here.
Hiep Pham
09 October 2011
Issue: 192
Hong Loan, a teacher of English at a high school in Hanoi, holds an associate bachelor degree. Every afternoon she travels 20 kilometres by motorbike to an adult education class at the University of Foreign Languages and International Studies. "This equips me with more knowledge, but more importantly, a bachelor degree will help upgrade my salary," she said.
In Vietnam, people with higher degrees receive higher salaries. A degree is also a prerequisite for managerial positions in most state organisations.

According to the country's education laws, part-time, in-service and all other types of 'non-formal' degrees must be treated the same as formal university qualifications.

But last December, the People's Committee (municipal government) of Danang, Vietnam's third largest city, promulgated a decision refusing candidates with in-service bachelor degrees to register for work in the public sector. It ignited heated debates in the media on the value of non-formal degrees.

Danang city's decision was seen as illegal under Vietnam's education laws and the move to bar informal degrees was subsequently reversed. However, the controversy highlighted the quality crisis in non-formal higher education.
For the rest of the article, click here.

Alya Mishra
09 October 2011
Issue: 192
India and the US will soon cement collaboration in higher education, with India's Education Minister Kapil Sibal meeting US Secretary of State Hillary Clinton in Washington on 13 October in a high-profile visit to use education diplomacy to build relations between the two countries.
The leaders will give shape to the Obama-Singh 21st Century Knowledge Initiative announced jointly by Indian Prime Minister Manmohan Singh and US President Barack Obama during the Indian premier's visit to the US in November 2009.

The initiative will provide US$10 million in funding to universities, divided equally between the US and India, to increase linkages and support junior faculty development and collaboration between US and Indian institutions.
For the rest of the article, click here.

Brendan O'Malley
09 October 2011
Issue: 192
Professors and students are being singled out for assassination, according to a leading scholar in the Syrian opposition movement who last week addressed the Human Rights Council in Geneva. "We have fears for scholars on the ground. More than 10 professors have been killed, mostly at Homs, in the past two weeks," said Radwan Ziadeh, a visiting scholar at the Dubai Initiative in the Kennedy School, Harvard. "The situation is escalating and we expect more killings."
He said he was very concerned about the future following the failure of the UN Security Council to agree to a resolution against President Bashar Assad's crackdown on opponents - due to vetoes by Russia and China.
From information gathered from the families of victims, the opposition alleges that more than 10 professors have been killed, mostly staff from Homs University, in targeted attacks by security forces of the Assad regime in the past couple of weeks.
For the rest of the article click here.
Ashraf Khaled
09 October 2011
Issue: 192
Leaders of business schools in Africa and elsewhere gathered in Egypt last week to discuss effective ways to enhance their institutions' roles in helping the continent grapple with food security challenges, and to forge academic collaborations aimed at tackling African problems.
See also the article by Sherif Kamel in Commentary
The unique round-table was an initiative of the business school at the American University in Cairo, and was attended by business deans and managers in key food companies.

"I think it is very important for us to get together to discuss the practical issues in business to make a difference in Africa," Jonathan Cook, chair of the Association of African Business Schools, told University World News.

For him, the Cairo event provided a good chance for leaders of business schools and the corporate world to compare notes on "points of leverage" in Africa.
For the rest of the article, click here.
<< Start < Prev 1

2

3 4 5 6 7 8 9 10 Next > End >>


Page 2 of 10