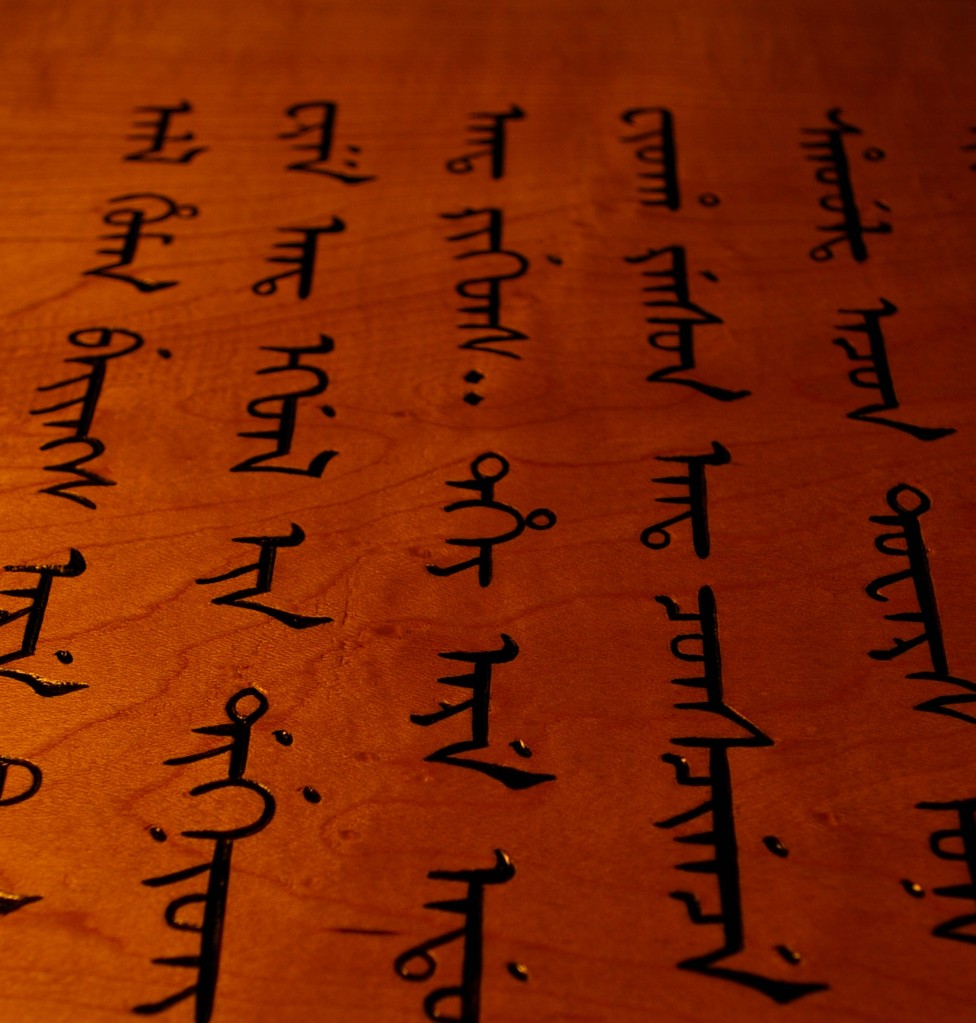 THE ENDANGERED ALPHABETS PROJECT
We've all heard about endangered species. But what about endangered languages? Tim Brookes researches languages on the brink of being completely forgotten, and he's here to break 'em down and store 'em up with his Endangered Alphabets project. Brookes carves and paints near-extinct writing systems from Indonesia, Nigeria, and beyond into wood, and he's planning a traveling exhibition to preserve these scripts and the fascinating cultures they embody.
The Endangered Alphabets Project needs invites for a Vermont professor traveling the world to attempt to save endangered languages... Please help.
Contact timbrookes@burlingtontelecom.net
World News
Deccan Herald01 April 2012 Issue No:215
Chinese higher education institutions are three times ahead of their Indian counterparts in research performance, a new comparative study has shown, exposing the deep chasm between the centres of higher learning in two Asian giants, reports theDeccan Herald.

The top 20 Indian institutes producing doctoral students are way behind Chinese universities and institutes producing PhDs, according to an analysis by India's CSIR-National Institute of Science Communication and Information Resources.

The comparison is made on the basis of three quality parameters and quantity of research output. Peking University, which tops the list from the Chinese side, is almost three times ahead of India's best performing institute – the Indian Institute of Science in Bangalore.

"As China is three times ahead of us, we will have to spend three times more in higher education to catch up," Gangan Prathap, NISCAIR director who did the analysis, told Deccan Herald. The study has been published in the 25 March issue of the journalCurrent Science.
 
Full report on the Deccan Herald site
by Richard P. Keeling and Richard H. Hersh
America faces a crisis in higher learning. Too many college graduates are not prepared to think critically and creatively, speak and write cogently and clearly, solve problems, comprehend complex issues, accept responsibility and accountability, take the perspective of others, or meet the expectations of employers. In a metaphorical sense, we are losing our minds. How can this be if American higher education is supposed to be the best in the world?
Nature Photonics 6, 277–278 (2012) | doi:10.1038/nphoton.2012.101
Published online 02 May 2012
The King Abdullah University of Science and Technology was established in Saudi Arabia in 2009. Nature Photonics recently visited the campus to see how things are shaping up.
Link to Article nature.com
Position: Finance and Accounting Lecturer
Job Location: Ho Chi Minh, Viet Nam

Campus/College Information:
Founded in 1991 Hoa sen University is one of the leading private university thanks to its commitment to excellence in teaching, research, and community service. Hoa sen University has offices and campuses in Ho Chi Minh City, Vietnam. The University currently offers different undergraduate and post graduate programs in the areas of Business, Finance, Accounting, Hospitality, Linguistics, Design, Media, Information Technology and Management, and Environment Management. The University has also various international collaborations with higher education institutions and universities across the world to offer international degree programs to local and international students.
For Detail, please visit our job posting page here.
Or email employment.poly@hoasen.edu.vn to apply.
Scholars at Risk is concerned over public reports that Mr. Gu Chuan, a scholar and blogger, was denied permission to leave China to take up a position as a Visiting Scholar at Columbia University in the United States. SAR asks for letters, faxes and emails urging the appropriate authorities to inquire into the matter and to explain publicly the circumstances of any restrictions on Mr. Chuan's travel or, if there are no official restrictions, to expedite approval of any pending or future travel requests.

Scholars at Risk (SAR) is an international network of over 270 universities and colleges in 34 countries dedicated to promoting academic freedom and its constituent freedoms of thought, opinion, expression, association and travel. In cases involving alleged infringement of these freedoms, SAR intervenes hoping to clarify and resolve matters favorably.
There are also other scholars at risk, for information on them, click here.
For more information and what you can do to help, click here.
Published on March 25, 2012

HETL Note: We are pleased to publish this interview with the distinguished educational researcher Dr. Alla G. Kuznetsova who is interviewed by HETL President, Dr. Olga Kovbasyuk. The interview provides an overview of current reforms on education in Russia with a particular focus on policy reform, participation, motivation and 'innovation hurdles' over the last two decades. According to Dr. Kovbasyuk, Russia needs to reach a national consensus on the future mission of education. Society faces two key challenges: 1) encouraging and supporting the younger generation to take an active part in the sociocultural construction of a new Russia that is aimed at overcoming the barriers between different social and cultural groups, and 2) attaining a unique position in the international education market. Within this context, Dr. Kovbasyuk believes that reform in education will contribute to the professional development of a new generation of teachers, will help expand open access resources, will better align vocational and higher education outcomes with labor market demands, will encourage public participation in educational management, and will produce more researchers for the 21st Century innovation economy.

For the rest of the Article, click here.
10th anniversary of MIT Graduate Program in Science Writing celebrates past, looks to future.

Jessica Fujimori, MIT News correspondent

The MIT Graduate Program in Science Writing turns 10 this year, and this Saturday saw many of the program's 61 alumni back on campus to catch up and reminisce with fellow graduates, professors and mentors.

A daylong symposium, titled "Telling the Stories of Science," was a celebration of the past 10 years of science writing at MIT, but the day's ending events focused on the future — the future of science, and the future of science writing. One panel explored the current state of play in the study of brains, learning and memory; a second explored the 50-year future of three of the most significant current stories in science: molecular biology, nanotechnology and quantum computing.

For the rest of the article, click here
Rahul Choudaha | 22 January 2012 | Issue No:205
The centre of gravity of the global economy is shifting eastwards. More than 20 of the world's top 50 cities ranked by gross domestic product are projected to be located in Asia by 2025, up from eight in 2007, according to the McKinsey Global Institute. It contends that accelerated urbanisation will result in a larger number of households with higher purchasing power.

The two heavyweights China and India alone will see their aggregate urban consumption increase seven-fold and six-fold respectively from 2005 to 2025. What does this projected socio-economic transformation of Asia mean for international student mobility?
Continue reading here.
Conventional coal, oil and gas resources used worldwide for power production and transportation are limited and unsustainable. Research and development into clean, alternative hydrocarbon fuels is therefore aimed at improving fuel security through exploring new feedstock conversion techniques, improving production efficiency and reducing environmental impacts.

Advances in clean hydrocarbon fuel processing provides a comprehensive and systematic reference on the range of alternative conversion processes and technologies.

Following introductory overviews of the feedstocks, environmental issues and life cycle assessment for alternative hydrocarbon fuel processing, sections go on to review solid, liquid and gaseous fuel conversion. Solid fuel coverage includes reviews of liquefaction, gasification, pyrolysis and biomass catalysis. Liquid fuel coverage includes reviews of sulfur removal, partial oxidation and hydroconversion. Gaseous fuel coverage includes reviews of Fischer-Tropsch synthesis, methanol and dimethyl ether production, water-gas shift technology and natural gas hydrate conversion. The final section examines environmental degradation issues in fuel processing plants as well as automation, advanced process control and process modelling techniques for plant optimisation

Written by an international team of expert contributors, Advances in clean hydrocarbon fuel processing provides a valuable reference for fuel processing engineers, industrial petrochemists and energy professionals, as well as for researchers and academics in this field.
This amazing book is by our fellow Dr. Rush Kahn, for more info click here.
Link to its amazon.com page is here.
For some of the world's poorest people, the biggest impact can come from fostering creative problem-solving.

David L. Chandler, MIT News Office

When it comes to really improving the lives of some of the world's poorest people, the first step can be as simple as handing them sheets of paper. 

That was the first exercise in classes taught by MIT D-Lab founder Amy Smith and graduate student Kofi Taha during workshops they held last year in Uganda, one of Africa's most impoverished and war-ravaged nations. To get the villagers thinking creatively about addressing some of their own problems and concerns, Smith and Taha posed a challenge for them: They were asked to engineer a way, using just two sheets of ordinary paper, to support several ears of corn up off the ground.

For the workshop participants — rural people being relocated back to their small, remote villages after more than a decade interned in camps for those displaced by Uganda's internal warfare — the challenge was daunting at first. But they quickly took to it, devising a great variety of clever ways to support the corn with cylinders, cones and cups made by folding (no gluing or cutting allowed) the sheets of paper. Right away, they began to feel more capable, and more ready for their next challenges.

For the rest of the article click here.
<< Start < Prev 1

2

3 4 5 6 7 8 9 10 Next > End >>


Page 2 of 10