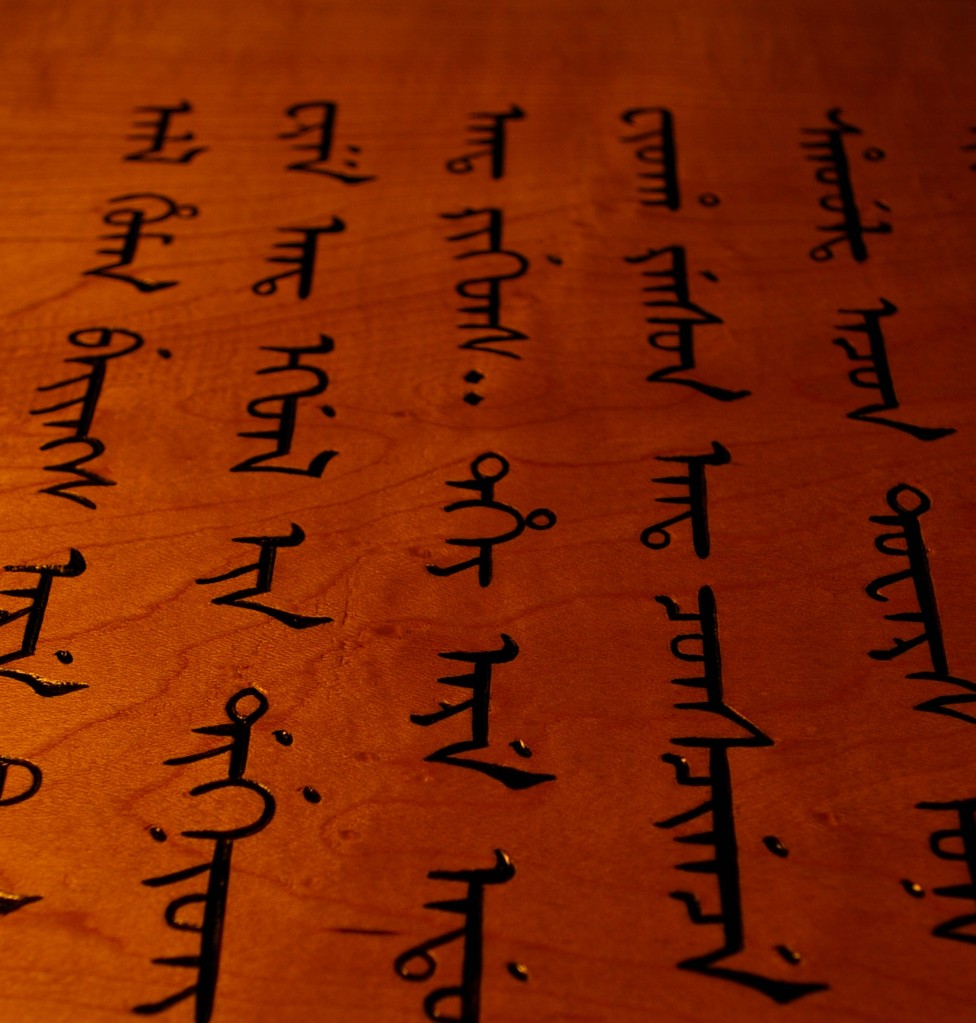 THE ENDANGERED ALPHABETS PROJECT
We've all heard about endangered species. But what about endangered languages? Tim Brookes researches languages on the brink of being completely forgotten, and he's here to break 'em down and store 'em up with his Endangered Alphabets project. Brookes carves and paints near-extinct writing systems from Indonesia, Nigeria, and beyond into wood, and he's planning a traveling exhibition to preserve these scripts and the fascinating cultures they embody.
The Endangered Alphabets Project needs invites for a Vermont professor traveling the world to attempt to save endangered languages... Please help.
Contact timbrookes@burlingtontelecom.net
International Academic Freedom Day:
Celebrating the "Courage to Think" and Scholars at Risk's 10th anniversary

Scholars at Risk celebrates International Academic Freedom Day, October 5th, with the conclusion of a two day conference on "Courage to Think."* The conference celebrated the 10th anniversary of Scholars at Risk's efforts to protect threatened scholars and promote academic freedom. In the last 10 years, Scholars at Risk members, partners and friends have helped over 400 threatened scholars find safety and renewal at network campuses, and helped nearly 600 more with counsel, referrals and other services.


Highlights of the conference included:

--a keynote dialogue featuring Aryeh Neier, President of the Open Society Foundations and former President of Human Rights Watch, in conversation with Jonathan Fanton, FDR Fellow, Roosevelt House, Hunter College and former President of the John D. and Catherine T. MacArthur Foundation and The New School;


--following the keynote, the presentation to Mr. Neier of the inaugural Scholars at Risk "Courage to Think Leadership Award" for his leadership and outstanding contributions to human rights and the protection of intellectuals.


--"Courage to Think" dialogues highlighting the personal experiences of scholars from Syria, Pakistan and Europe threatened for advancing ideas against resistance;

--workshops on SAR's Academic Freedom Advocacy Team project, aimed at promoting greater respect for academic freedom and university values; and
--a meeting of network member institutions, partners and friends to discuss future activities, organization and goals of the network.

Participants included activists, intellectuals, academics and administrators from more than 21 countries—including Canada, the Democratic Republic of Congo, Denmark, Georgia, Germany, Ghana, Iran, Ireland, Israel, Lithuania, Netherlands, New Zealand, Nigeria, Norway, Pakistan, Syria, Tanzania, Turkey, United Kingdom, United States, and Zimbabwe—and exiled and refugee scholars who have fled persecution in their home countries. Detailed information on the conference and outcomes will be made available shortly on the Scholars at Risk website at www.scholarsatrisk.org

. For more information, or to make a gift in support of Scholars at Risk's work, email scholarsatrisk@nyu.edu.

*Scholars at Risk together with higher education partners worldwide invite institutions to celebrating International Academic Freedom Day, a day recognizing the essential core of university life—academic freedom—and remembering scholars and students whose freedoms of inquiry, expression and association are at risk today. Scholars at Risk celebrates International Academic Freedom Day in solidarity with, and on the occasion of, World Teachers' Day, 5 October.